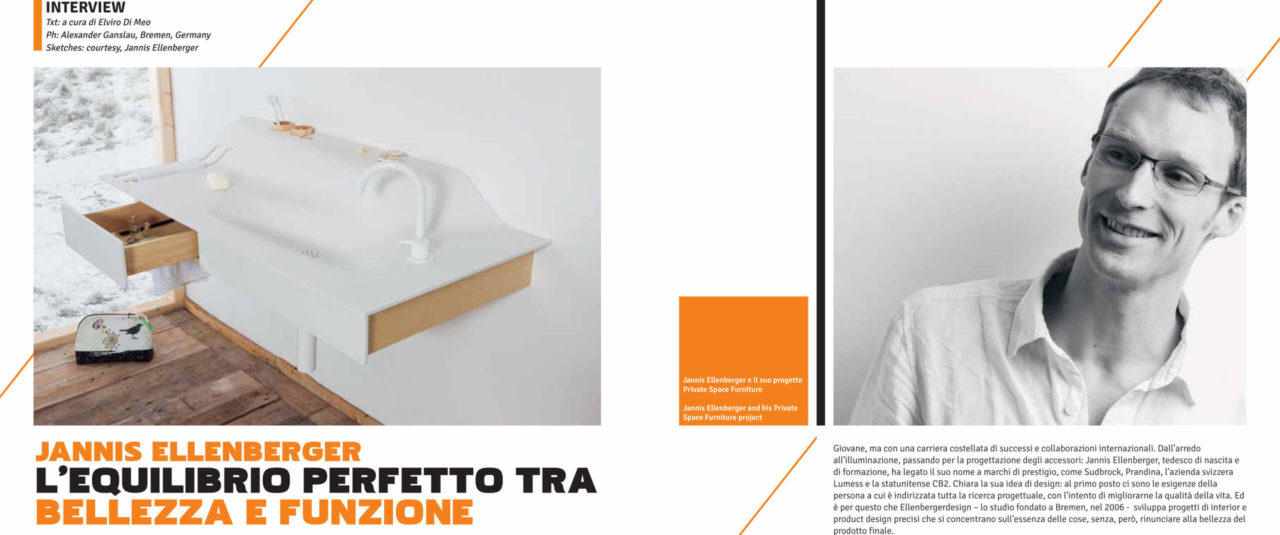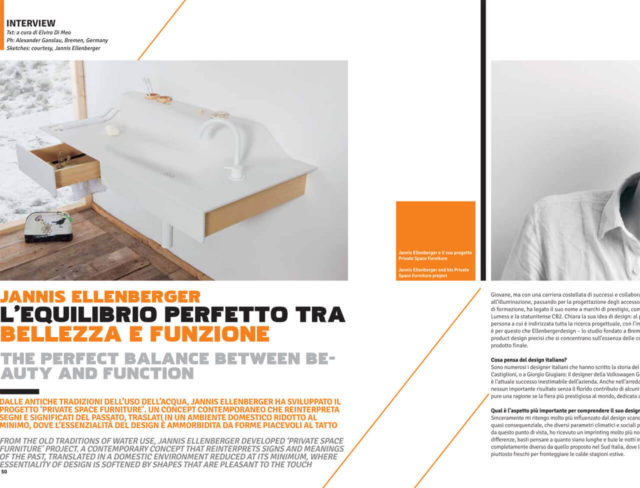 THE PERFECT BALANCE BETWEEN BEAUTY AND FUNCTION
From the old traditions of water use, Jannis Ellenberger developed 'Private Space Furniture' project. A contemporary concept that reinterprets signs and meanings of the past, translated in a domestic environment reduced at its minimum, where essetiality of design is softened by shapes that are pleasent te the touch.
Text: Elviro Di Meo | Photos: Alexander Fanslau, Bremen, Germany

What do you think about Italian Design?
There are certainly many interesting Italian designers which are very important for international design history. Just to name a couple of them: pioneers like Achille Castiglioni or Giorgio Giugiaro, the designer of the VW Golf who contributed to make VW a success story. In terms of furniture, the design world would not be the same without some very spirited Italian manufacturers – there certainly is a reason why world's most important furniture fair is in Milano…
What's the most important thing to know about you as a designer?
To be honest I would say that I am personally more influenced by Scandinavian design. It is quite natural that different climatic and social parameters result in different designs. Just think about long and dark winter nights in Scandinavia for example. There is a need for totally different furniture in southern Italy, where people rather need a cool shelter on hot summer days.
What is the most distinctive quality of your projects?
Whereas I was socialized in the northern part of Europe, I always try to add a warm touch and feel to my designs. Further we increasingly need a place to calm down and relax at home as a balance to the stressful outer world. This is why wood for example is such an important material to me, it is very natural and has a warm surface feel. My Designs are rather quite in a way, clean and basic yet having a clear statement and always integrating some nice details. A good design is nothing more nor less than the total of many well designed details.
What is the concept of the Private Space Furniture Collection? How was the cooperation with HI-MACS® born?
I wanted to pick up former traditions of the usage of water inside a house. People used to have a simple bowl of water or pitcher on a table. Last century, when waterlines and taps were installed, small sinks were put in the sleeping rooms, because people were just used to have water there. It took some more time, until water completely disappeared from sleeping rooms. And now I was trying to tie up to this tradition, to bring together again sleeping room and bathroom. As a matter of fact just like the trend of kitchen and living room growing together to one big room. You could carry it as far as to follow a concept of a two room house or apartment. One room that you share with your guests (kitchen + living room) and one room that is private (sleeping and body care). That is why I called the whole project "Private Space Furniture Collection". At the very beginning of the collection there were the washstand, the bed, bench and valet.
When it all started I was even thinking about using wood only. There is a very interesting technology of molding plywood in 3D shapes. But we pretty fast ended up to use mineral composite for the sink. This can be thermo-molded and it is thus predestinated for organic and flowing shapes, like a landscape, natural shapes of lakes and rivers where the water flows through. Shapes that are a pleasure to touch, to follow with your hands and to watch the water going down. In HI-MACS® we found the perfect partner for my project. They provided material support in a quick and uncomplicated way and connected me to manufacturers having the necessary knowhow. Even though it does not look like it, the shape of the Private Space Washstand is pretty much at the limit to what a one piece sheet of mineral composite allows to do.
What is the role of new technology in design, in the spaces of the house (Bathroom)?
Next to the necessity of saving some natural ambience and behavior in homes, especially in rooms that serve wellness and care of health, we definitely need high tech solutions as well. But I hope that engineers will do it not just for our personal pleasure and comfort. Housing is one of the major sectors in terms of burning up energy and material. So we rather have to install smart resource and energy saving technologies that operate in the background in order to make our planet be worth living on for future generations.